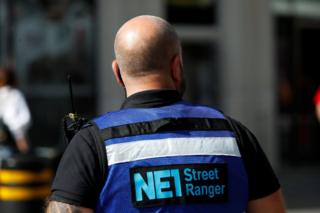 Image copyright
Reuters
Image caption
The rate of Covid infections in the region is now more than 100 cases per 100,000
The government has been accused of creating "doubt and uncertainty" with its announcement of tighter coronavirus restrictions in north-east England.
People who break a new law, which comes into force on Wednesday amid a spike in Covid-19 cases, will be fined.
Households mixing in indoor settings, such as pubs and restaurants, will be illegal, the health secretary has said.
But a council leader said a lack of detail about the measures had led to people spreading half truths and myths.
Education minister Gillian Keegan was earlier unable to clarify whether the new restrictions stopped people meeting outside in pub and restaurant gardens, as well as inside.
Speaking on BBC Radio 4's Today programme, she said: "I don't know the answer to that question."
Newcastle City Council's Labour leader Nick Forbes said having a "gap between what's announced in headlines and the details that people can understand" undermined the "principle of community consent".
"What that does is sow confusion, it creates doubt, it creates uncertainty," he added.
Ms Keegan was pressed on how people were supposed to keep up to date with the latest restrictions when ministers could not but said: "I'm sorry I can't answer that question.
"I'm sure there are many people who could - I don't represent the North East."
The rules would be "communicated very clearly" to the people affected, she said.
The BBC has been told mixing with other households in pub gardens or outdoor restaurant spaces is not being made illegal but goes against advice.
The Department for Health and Social Care has been approached for comment and asked when the new rules would be published.
It has made clear informal childcare from family members, such as grandparents, will still be permitted but on "an exclusive basis - always the same two households".
About two million people in Newcastle, Northumberland, Gateshead, North Tyneside, South Tyneside, Sunderland and the County Durham council area had already been advised to avoid mixing but the new rules will be enforced with fines.
For those over 18 it would be £200 for a first offence and halved if paid within 14 days.
Second offences would incur a £400 fine, which would then double for each subsequent offence up to a maximum of £6,400.
Police had not been given "any notice whatsoever" that new restrictions were to be announced, Mr Forbes said.
He criticised Health Secretary Matt Hancock for announcing the changes in Parliament "without telling us he was about to do so".
Gateshead Council leader Martin Gannon accepted the rules were "necessary" but said the authority had been "inundated" by people asking for details.
"It is a bit chaotic how these things happen," he said.
The new laws on household mixing send a strong message - even though there has been some initial confusion about exactly how they will be applied.
But questions are also naturally being asked whether these rules will be applied elsewhere. The North West has areas with higher rates of infection.
In the North East, only Newcastle is in the top 10 worst affected places currently, whereas several Greater Manchester and Merseyside areas feature.
The reason for this anomaly appears to be down to North East leaders being more enthusiastic for tougher measures.
Talks over the weekend between the government and officials in the region showed an appetite to go further.
Discussions are being held behind the scenes with North West officials. An announcement could come in the next few days.
Data updated on Monday showed that, for the week to 25 September, Newcastle recorded 721 new cases of coronavirus - about 238 per 100,000 population - while South Tyneside had almost 197 cases per 100,000.
The lowest rate in the region was in Redcar and Cleveland with 55 cases per 100,000.
Stuart Henderson, a project manager from County Durham, said people were suffering "all because many 20-45 year olds are selfish and unable to take their civic responsibility seriously".
"We have already endured six months of lockdowns and restrictions, but now the only thing that was keeping me and my friends going - each other - is gone," he added.
"The government should find a way to target them, not punish us."
World Health Organization special envoy David Nabarro has warned against imposing stricter rules to control behaviour.
The "war" against this virus "is not going to be won by creating tougher and tougher rules", he told the Today programme.
"The only way that we will come out ahead of this virus is if we're all able to do the right thing in the right place at the right time because we choose to do it," he said.
Follow BBC North East & Cumbria on Twitter, Facebook and Instagram. Send your story ideas to [email protected].