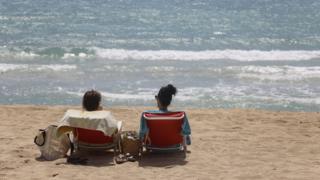 Image copyright
Getty Images
The government's decision to impose a 14-day quarantine on travellers arriving in the UK from Spain has caused "uncertainty and confusion", as one holiday firm has put it.
So, what does it mean for those visiting Spain?
Will my employer pay me if I have to isolate on return from Spain? Lisa, Horsham
It will depend on individual employers.
You're not automatically entitled to statutory sick pay if you are self-isolating after returning from holiday or business travel, industrial relations body Acas says.
You should let your boss know as soon as possible and ask them about the company's policy.
If you can work from home, for instance, then you can be paid as normal. But if you can't, another solution could be to take annual leave so you can get holiday pay while self-isolating.
Your employer could choose to pay you sick pay, either at the statutory rate or a higher level.
However, if you have coronavirus or its symptoms and have to self-isolate, then you are eligible for statutory sick pay, which pays £95.85 per week.
Is my insurance valid if I'm already there?
The Association of British Insurers has advised holidaymakers who were already in Spain when the government's advice changed, their insurance was likely to cover them until they returned home.
But it added: "Travelling to countries against FCO advice is likely to invalidate your travel insurance and this would apply to those yet to travel to mainland Spain."
It added that people who want to change travel plans should contact their airline, tour operator or travel agent.
A hotel I've booked online in Majorca is closed. Can I reject the offer of an alternative and get a full refund? Christian Evans
Under the regulations, if an online travel agent makes any significant change to your holiday - such as flight times or the hotel - they should tell you about the change and give you a reasonable period of time to accept it or cancel it with a full refund.
Additionally, the regulations also allow you to claim a refund for any trip to a destination that has a Foreign and Commonwealth Office warning against it, such as Spain currently.
For refunds on other booked holidays, the best thing to do is consult your airline, tour operator or travel agent.
Tui has said customers due to travel to all areas of Spain between 27 July and 9 August will be able to cancel or amend holidays and receive a full refund or the option to rebook. People with holidays booked from 10 August will be updated on 31 July.
Jet2 is advising customers to arrive for their flights as normal, as its scheduled programme to and from mainland Spain, the Balearic Islands and the Canary Islands is continuing.
British Airways and EasyJet are also maintaining their flight schedules.
People whose trips are cancelled should get a refund within two weeks, but that deadline may well be missed in the current circumstances.
What are the quarantine rules for when I return?
When you arrive back in the UK, you must go straight home or to other suitable accommodation. You are allowed to travel by public transport.
Your 14-day period of self-isolation starts from the day after you arrive.
You cannot leave home except for medical assistance, to attend court or go to a funeral - or to go shopping for essentials, if no-one else can do this for you.
Leaving home for work, exercise or socialising is not allowed.
People can be fined up to £1,000 for breaking quarantine rules, but as of 10 July, nobody had been fined in England and Wales.
How long will the new rules last?
It is difficult to say, as the government is reviewing nations on its "safe level" for travel every week.
Which? magazine travel editor Rory Boland told BBC News that in this instance an update may come sooner as an exception, given that travel "is so important to UK travellers and to the economy of Spain".
---
What questions do you have about Spain travel regulations?
In some cases your question will be published, displaying your name, age and location as you provide it, unless you state otherwise. Your contact details will never be published. Please ensure you have read our terms & conditions and privacy policy.
Use this form to ask your question: