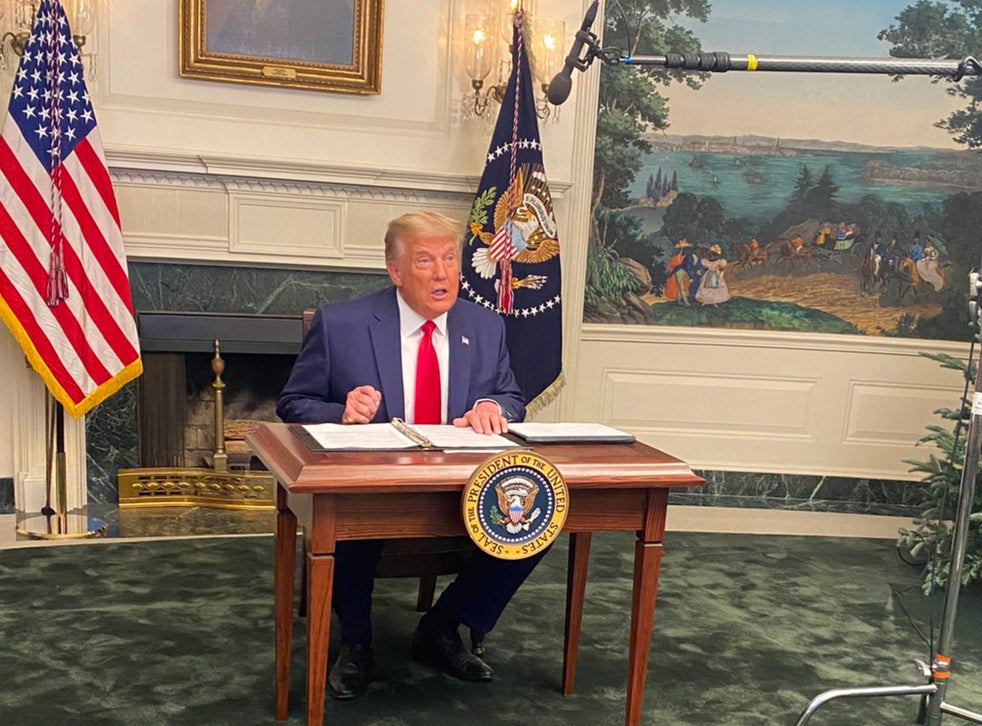 Donald Trump addresses troops from the White House
(Twitter)
Donald Trump had said Joe Biden is wrong to name his Cabinet and refused to say whether he would attend Mr Biden's inauguration, in his first time answering questions since the election.
Mr Trump, speaking at the White House after the traditional call to troops, was still furious about the 3 November vote, saying that if the Electoral College certifies the vote "they made a mistake".
Asked whether he would leave the White House if they do, he said he would, adding: "You know that."
And he announced he was travelling to Georgia, likely on Saturday, to support the Republican senators Sonny Perdue and Kelly Loeffler in their January run-off.
Mr Trump on Thursday evening made his traditional call to the troops stationed around the world, contacting them via video link from the White House.
The president and first lady have skipped their usual Mar-a-Lago retreat and instead were remaining in Washington.
Mr Trump spent Thursday morning playing golf, tweeting about Fox News and gloating about his bitter rival Andrew Cuomo's loss in the Supreme Court, after the justices ruled against his plan to limit attendance at religious services due to the pandemic.
Your daily US politics newsletter
"HAPPY THANKSGIVING," the president tweeted, with a link to the ruling against New York's governor.
Joe Biden, meanwhile, is in Delaware at home and has issued a Thanksgiving message to the country he will soon lead, telling them that their sacrifice in not travelling to see relatives is their way of showing gratitude to the nation.
Sitting next to his wife Jill, Mr Biden explained that their tradition was to travel to Nantucket to be with friends and family, but instead they were having a small celebration at home.